As a London wedding photographer we've had the pleasure of working in some of the top London wedding venues … read on to find out more.
We're going to deep dive into some of London's most famous wedding venues but first a few of our personal favourites. Let us introduce you to The Barbican Conservatory – one of the most unusual venues in London for weddings and London wedding images. A lush tropical oasis home to exotic fish and 1,800 species of tropical plants. Another beautiful botanical venue to put on your radar is Kew Gardens. Famous for their incredible glasshouses, which you can get married in! Choose between The Orangery, The Princess of Wales Conservatory or the Nash Conservatory. Each spectacular, with serious wow-factor! Did you know you can even get married in Shakespeare's Globe Theatre? This unique venue sits on the banks of the Thames and is fully licensed for weddings. All photographic gold for your London wedding.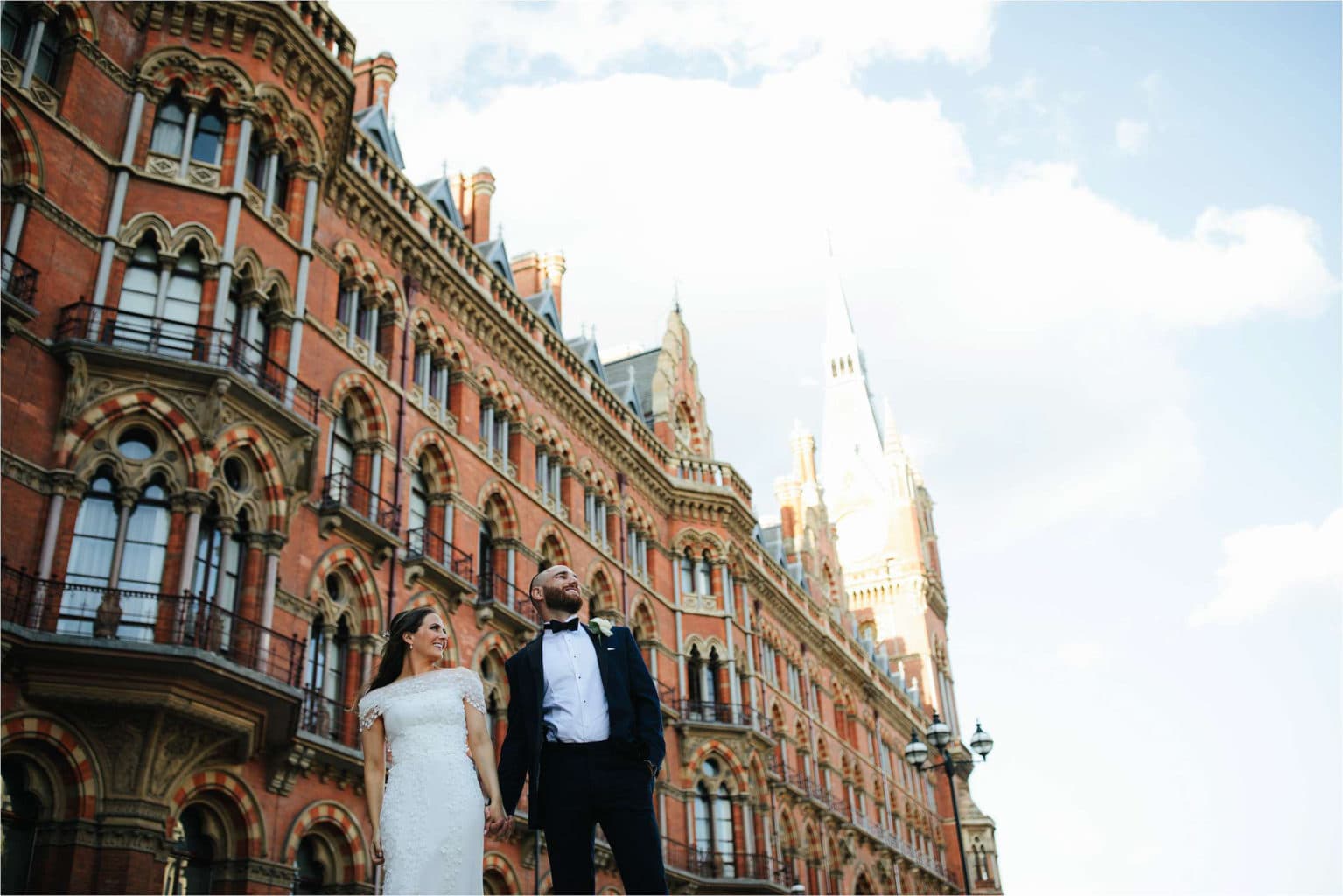 One particular type of venue that we haven't mentioned yet dominates London's wedding scene and is a super popular choice for many couples. The humble hotel, not as you know it. Get the vision of stuffy, cheesy, function room weddings out of your head. We're talking about chic HOTEL weddings here; The Savoy, St Pancras Renaissance, The Hoxton, The Ned, JW Marriott Grosvenor Hotel - all iconic backdrops and perfect for those wanting a classy look to their London wedding photographs. All beautiful, versatile, and handily ensuring that one big wedding element can swiftly be ticked off the list; guest accommodation! Lets start with St Pancras Renaissance because what wedding photographer can't help but look up at this majestic building whenever you're within a stone's throw of King's Cross and drool over the photographic possibilities within? It's a treasured London landmark and has been dubbed, 'London's most romantic building'. There are five wedding venues that call this building home, suited for celebrations large and small. But as well as being an epic backdrop for your wedding and a true Victorian masterpiece, rumour has it a couple got married on site, had a champagne reception at The Booking Office Bar and then hopped onto the Eurostar for an evening reception and mini break in Paris. Incredible. And if this is something that you're up for then it goes without saying, count us IN.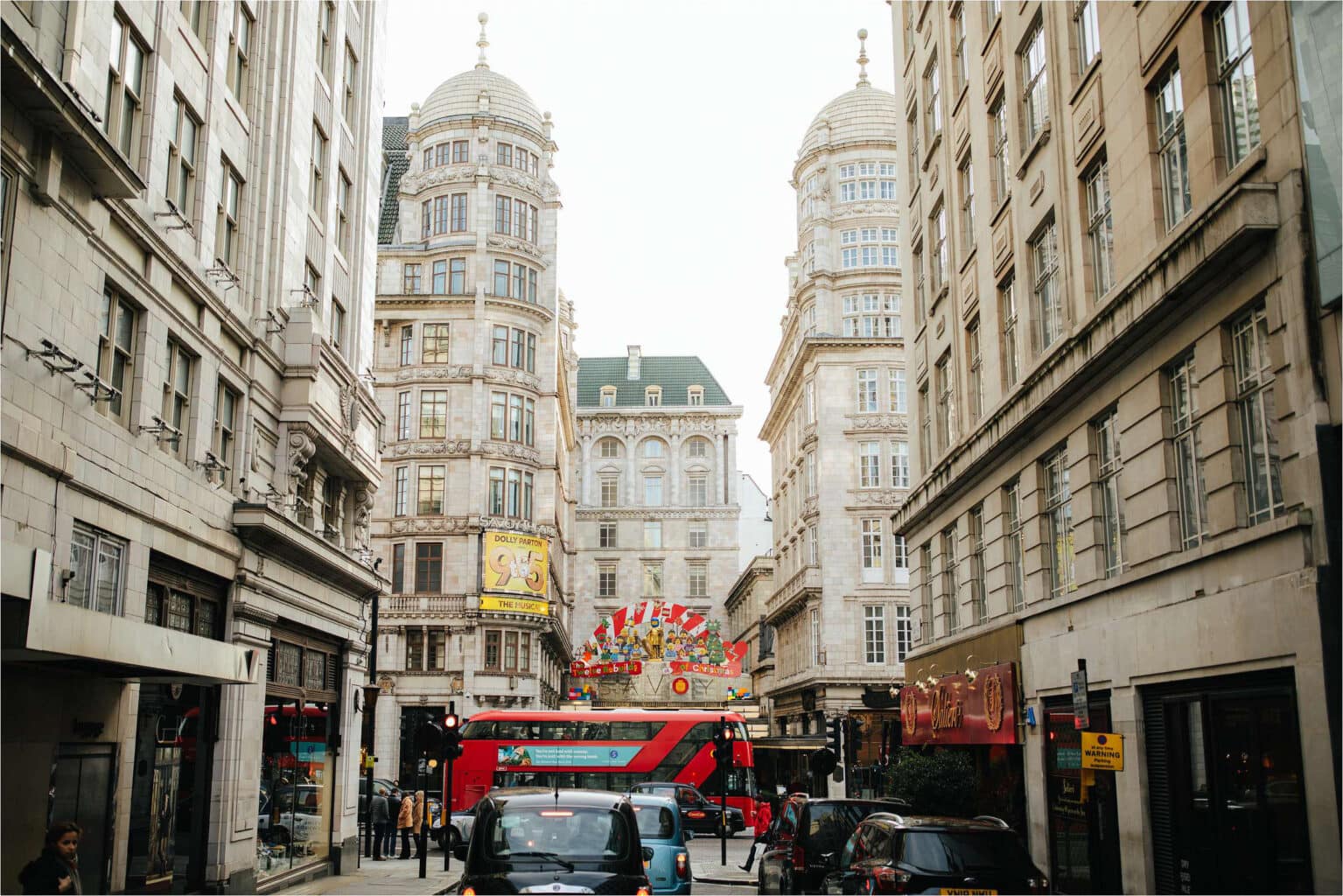 Another London hotel that is famous for being one of the most iconic 5-star hotels in the world – The Savoy. Recognised worldwide for its reputation and quality, this wedding venue is nothing short of pure luxury and class. Located on the bank of the River Thames in the heart of London, The Savoy is perfectly situated near Covent Garden, Mayfair and the West End. There are several function rooms and spaces within The Savoy that are suited for a variety of weddings and events. The Lancaster Ballroom for example is the largest of the The Savoy's rooms and has a completely clear floor space, perfect for dancing and allowing flexibility to transform the room to your bespoke requirements. JW Marriott Grosvenor House is one of Mayfair's premier venues, synonymous with luxury and elegance. With a capacity for up to 2,000 guests you can appreciate how this incredibly striking venue setting is perfect for Asian weddings. Couples and their guests are treated to views of Hyde Park and Park Lane and their spectacular Great Room is in fact one of Europe's largest and impressive banqueting spaces! If you've ever visited the South Bank you are sure to have spotted the OXO Tower. Originally constructed as a power station to supply electricity to the Royal Mail post office it now houses independent shops, private flats, a restaurant, bar and brasserie and an event space – OXO2. OXO2 has swiftly become one of the capital's most sought after wedding venues boasting panoramic views of London's landmark buildings and the River Thames – the perfect backdrop for unforgettable wedding photos! If you're looking for something with a little more history and opulence then we can highly recommend One Whitehall Place at The Royal Horseguards Hotel and The Gibson Hall, both impressive and totally majestic! One Whitehall Place is steeped in traditional Victorian grandeur and home to a variety of spectacular events spaces, accessed via their showstopping marble staircase. Located on the Victoria Embankment this prestigious venue is also lucky to possess those enviable Thames views. What The Gibson Hall lacks in views, it makes up for in space and glamour (you should see the chandeliers!). As well as being a perfect venue for large receptions there is a private and secluded outdoor space offering privacy even in the midst of bustling central London! Perfect for al fresco ceremonies or drinks receptions, this space really comes into it's own during the summer months. Other central London venues can hardly compare.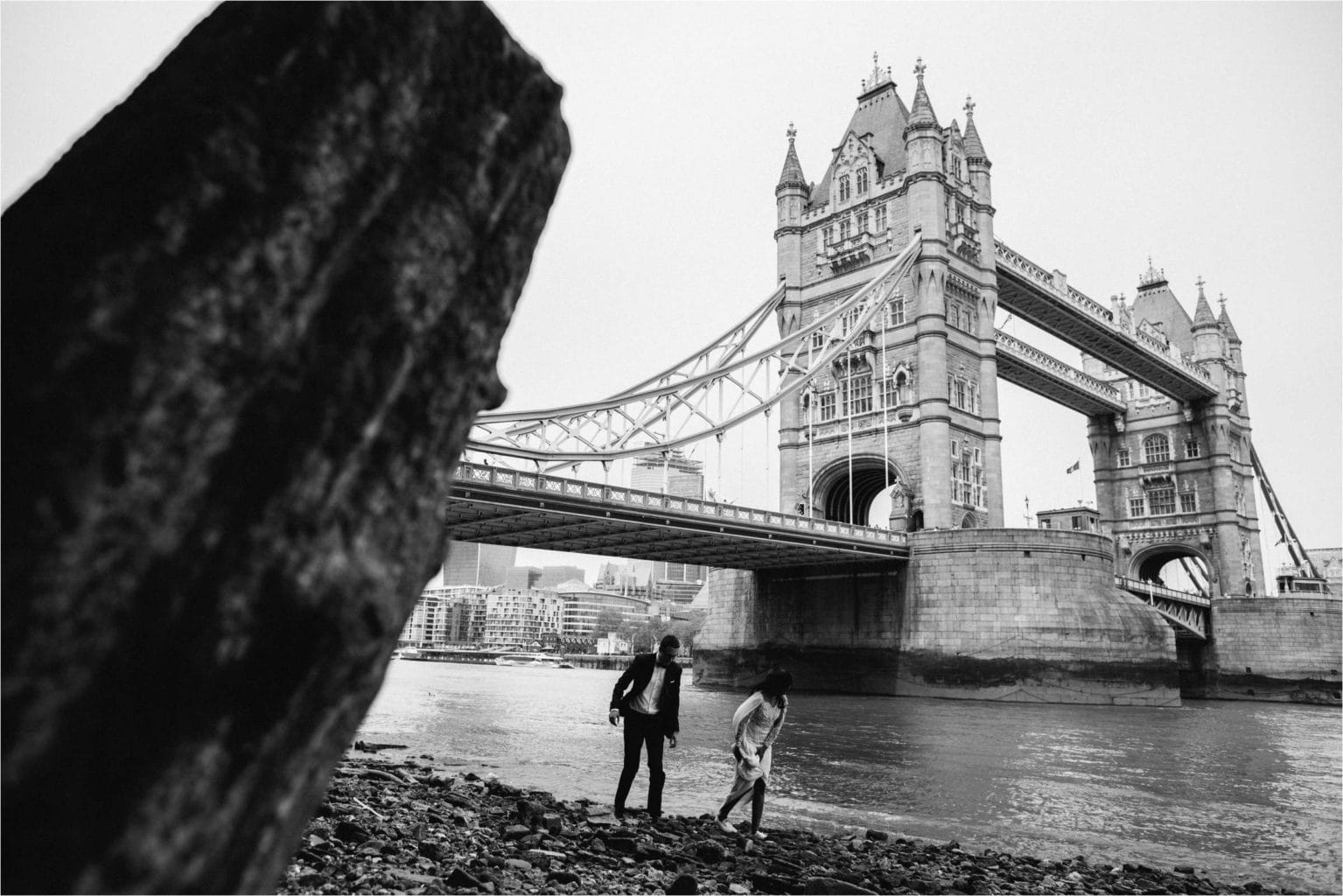 Have you heard of The Ned? If not - where have you been?! This stylish hotel pretty much has it all – no wonder it's become the go-to-venue in the city for nuptials. Part private member's club, part restaurant emporium, part 5-star hotel. The Ned is one of London's most talked-about venues and has the entire sixth-floor dedicated to events. Featuring panelled walls, parquet floors, ornate chalk friezes and views of St Paul's. This place is achingly cool and club-like in parts, but maintains a nod to 1920s glamour throughout. Moving away from the historic and the opulent we couldn't cover London's exceptional venues without mentioning the more modern and the industrial. If you're into Studio 54-inspired interiors, bold prints, brass fixtures and pink metro tiles then The Hoxton, Southwark is the place for you. But if you fancy some cosy house party vibes then definitely check out The Hoxton, Shoreditch – where it all began.
Asylum Chapel must be seen to be believed. Bombed in WWII, this enchanting Chapel is a Grade II listed building built in 1826 and whose current function is as a creative, flexible events space. Easily recognisable due to the distressed interior – the textured walls, flaking paint and plaster, historic features and stained-glass windows only add to the character and charm making this one of London's most unique venues. We should point out that Asylum Chapel is a ceremony-only venue. Handily their sister venue, AMP Studios is located just 10 minutes away, based in two railway arches with a generous outdoor pavilion and courtyard area. This is a brilliant blank canvas venue where you have the freedom and flexibility to choose your own food, drink and décor. Another warning coming; this is a super popular venue and it books up FAST! At some point during your wedding planning journey you'll likely encounter a Register Office. It could be as simple as 'giving notice' or doing 'the legal bit' before heading to another venue at a later date for the wedding wedding. But for others choosing a city chic wedding the Register Office / Town Hall is an integral and special part of the big day. It's when you get to seal the deal after all! And what comes to mind when you picture a Town Hall city wedding? The confetti shot on the front steps of course! We love these – so fun and totally iconic. Some Town Hall venues that are as cool as they are traditional include Hackney Town Hall, Chelsea, Islington, Stoke Newington Town Hall and Battersea Arts Centre. Again, Town Hall venues are purely ceremony only but they're often located close to many popular reception venues.